Frequently Asked Questions
What is Greece's average temperature and rainfall?
What is Greece's average temperature and rainfall?

What electric voltage is used in Greece?
The electricity supply in Greece is alternating current, 220 volts, 50 (Hz) cycles. Appliances for 110 or 120 volts may be operated by using stepdown transformers of 220/110 volts connected to each outlet, provided these transformers have two separate windings to eliminate any danger of electric shock.
What public holidays should I be aware of?
• January 1 – New Year's Day
• January 6 — Epiphany
• February First Sunday in Lent
• March 25 Greek Independence Day
• March/April (changes yearly) — Good Friday
• March/April (changes yearly) — Orthodox Easter Sunday
• May 1 — Labor Day, Spring Rites
• August 15 — Feast of the Assumption
• October 28 –Oxi Day
• December 25 –Christmas
• December 26 – St. Stephen's Day
What are the business hours?
•Post Office: Monday to Friday, 8:00 am to 2:00 pm
• Banks: Monday to Thursday, 7:30 am to 2:00 pm, on Friday till 1:30 pm
• Government offices: Monday to Friday, 8:00 am to 2:00 pm.
• Shops: Mondays, Wednesdays, and Saturdays 9:00 am to 2:30 or 3:00 pm
• Tuesdays, Thursdays and Fridays: 9:00 am to 2:30 pm and 5:30 pm to 9:00 pm
• Big stores and supermarkets: 8:00 am to 8:00 pm, including Saturday.
• Sundays, everything closed except tavernas, patisseries (zaharoplasteio) and tourist oriented establishments
What system of weights and measures is used in Greece?
Greece uses the metric system. For conversions, click here.
What is Greece's time zone and international telephone code?
All Greece territory lies in the same time zone. Greece is two hours ahead of Greenwich Meridian Time and three hours ahead of daylight savings time.
For times zones in other cities, click here.
Greece's international telephone code number is +30. If calling from the United States, first dial 011, then 30, then the number.
What currency is used in Greece?
With the exception of the 400 years of Ottoman occupation, the Greek drachma circulated in the world's money market since ancient days, making it the oldest currency in the world. That is, until January 1, 2002. On this date Greece joined the rest of the Europe Union members in converting to the euro.  See  daily exchange rates.
What is Greece's population?
As of November 1, 2016, Greece's population was 10,907,52 which equals 0.15% of the total world population.  Greece ranks number 83 in the list of countries by population.  The population density in Greece is 85 per Km2 (219 people per Mile2).   79.2% of the population lives in urban area.   See World-o-Meters (a live site).
Can I get by speaking English?
Yes. In contrast to bella Italia where Italian rules, in Greece many many people speak English, especially those connected to the travel and tourism market. In small villages you will encounter less English spoken, but usually someone is around who knows enough English to assist you. In previous decades Greeks emigrated in droves to English-speaking countries—America, England, Australia and South Africa—and that is one reason English is so pervasive in Greece. By the way, if you are able to manage just a few Greek phrases, you will completely endear yourself to the locals.  See our Greek Language section for starters.
What are Greece's tipping customs?
For restaurants, the tip is generally included in the bill, but it is still customary to leave a 5% tip and you are being very generous to leave a 10% tip. In hotels or boat cabins, it is customary to tip up to 1 euro per baggage carried to your room. Tipping for taxis is not expected, but drivers appreciate being told, "Keep the change."
What kind of bicycles are provided?
For our bike tours, we own our own fleet of Specialized bikes, Allez model for road bikes and Crossroads model for hybrids.   Our bikes come in small, medium, and large sizes with quick release adjustable seat post to suit any size rider. The bicycles include odometer, two water bottles and handlebar pouch.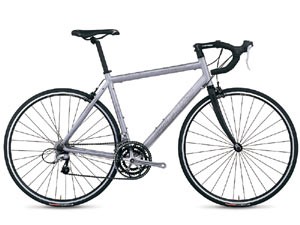 Specialized Allez road bike
The Allez was built for speed and comfort. The bikes feature feather light aluminum frames with carbon fiber front forks and drop handlebars. The bikes are equipped with a triple chain ring with 27 gears, 30/42/52, making for smooth climbs. The bikes combine minimal weight, razor sharp handling, and exceptional efficiency.  You have the choice of drop bars or flat bars.  Allez Specs
Specialized Crossroads
The Crossroads are built for adventure and comfort. They are constructed of sturdy and lightweight aluminum frames which are supplied with front suspension forks to smooth out the ride. The bikes have triple chain rings with 27 gears and flat "H" handlebars. They ride lightweight on road while durable for off road trails.  Crossroads Specs
Kids Bikes
Kids over 9 years old ride size-appropriate mountain bikes with triple gears.  For children ages 6-9 we have Trek tag-alongs and ages 6 and under a Burley trailer.
What type of activities can be included on a tour?
Depending on the itinerary, you have a variety of exciting natural and cultural phenomena available, including swimming, ancient sites, sailing, sea sports, Byzantine churches, castles, volcanos, monasteries, artists' workshops, olive oil harvest, fresh springs, caves, Turkish baths, thermal waters, hiking, wildlife refuges, gorges, wine tasting, cooking classes, Greek music and dancing, pottery making, horseback riding.
What are basic tour inclusions?
Whether a customized tour or scheduled tour, all have basic inclusions, the heart of which is the  itinerary organized by your Aegean Adventures travel experts.    We select alluring destinations based on our travels far and wide in Greece.   At each destination, we book fine 3-4 star accommodations, or the best in the region for rural areas.  All guests receive maps of the regions and trip packets with Tour Highlight — what to see and do at each destination, recommended places to eat, phone numbers and interesting, informative informative about Greece and the region you visit.  Every tour also includes taxes and VAT.   Most Aegean tours offer additional inclusions in the tour price.  Upgrades and additional services/activities determine the final tour cost.
What are the advantages of a company guide or driver?
Our guides are Greeks and non-Greeks who speak multiple languages, mainly Greek and English.    Guides are eager to share their passion and knowledge of Greece with foreign guests and will assuredly enhance your understanding of Greece which will cause you to enjoy and appreciate your vacation all the more. They can trouble shoot, assist with menu choices and translations, or interface with hotel staff for your needs.  The guides are there to service you.   Should you opt for a private driver, you will be serviced by a Greek-speaking resident with all proper driving licenses and qualifications. A private driver relieves you of the task of navigating around in unfamiliar terrain.   The driver is there when you need him and retreats into the background when you need private time.
If I am traveling alone, what are my rooming options?
Tour costs are based on double occupancy.   Solo travelers must pay a single supplement for a single room, the cost of which varies on each tour depending on the hotels patronized.   For scheduled tours, a single traveler can request to room with another person of their gender and avoid the single supplement fee.
Are children allowed on scheduled tours?
Children aged 16 and older are welcome on scheduled tours, so long as they are accompanied by a parent or legal guardian.   We offer dedicated family tours in the Family Fun section.   Most of our family tours are  customized family tours, private to each family.   All family tours include company vehicle with driver-guide.   Certain hotels can provide day care for parents wanting some quality adult time and the driver-guide can also take care of the kids during day hours.
Seasoned travelers adhere to a common sense rule: the less you tug, the less you lug. Most travelers invariably pack far, far more clothes than they ever need or wear.  Most travelers buy souvenirs and if your bag is full when you leave home, where will you put your new purchases?  We recommend one piece of luggage and a day pack.
The weather in Greece is usually warm and hot from early June to late September.   We advise simplicity in attire.   Yet, Greece is also mountainous and the temperatures, even in July and August, can be cool and in other months chilly and cold at night.   Sometimes the air conditioners on the ferries are set too high and you need a sweater.
Although Greeks tend to dress up when going out for dinner, they are accustomed to foreigners dressing down.  If special items are required, packing tips are specified in the documents you receive after booking your tour.
Booking a tour requires a payment of 400 euros per person with the balance due 90 days prior to departure.   A 30% deposit is required for groups of eight or more.
Scheduled tours are listed in our Book Now booking engine where you can pay with a credit card.   For customized tours, we can set up an online account for you to book your tour there.  Otherwise, we can take credit card information over the phone or we email you a form and you send it back to us and we charge your card.   You also have the option to pay by bank wire transfer, and usually the bank fees are cheaper than payment by credit card.
What are your cancellation policies?
If you need to cancel your trip, email us immediately at info@aegeanadventures.com and upon our receipt of your email notice we will email you an acknowledgement within 48 hours of your cancellation notice.  The date of your cancellation notice is the date your notice is received by our office.
Refund policies are as follows:
* 90 days or more before trip departure: 80% return of deposit.
* Between 90 and 60 days before trip departure: 50% of total payment.
* Less than 60 days before trip departure: no refund.
* Voluntary leave the tour at any time after the first day: no refund.
* Involuntary leaving the tour upon our demand for inappropriate behavior: it is in our discretion to refund or not, and in what amount.
* No refunds for any accommodations, bike usage, transfers, transport, meals, entry fees or services paid for as part of the tour but not patronized.
Can I amend my itinerary after I've booked?
For Customized Trips, there are no amendments once the itinerary is finalized. Go to Pricing for more details.
For other trips, yes, probably you can amend the itinerary, but it depends on what the changes are and when requested. Changes sought 60 days or more before departure may be subject to a $200 handling fee. Trip substitutions made by the client less than 60 days before the departure date incur a $400 handling charge. No booking changes will be permitted within ten days of departure. Change in hotels or hotel upgrades are subject to availability. Changes in flights or ferry schedules may incurs fees from those companies.
Can I transfer my booking to someone else?
Yes, you may transfer your booking to another person subject to the time frame and conditions for amended bookings.  There is a discretionary 100 euros handling fee if the transfer takes place more than 60 days prior to the tour's start date and 200 euros handling fee if less than 60 days prior to the tour's start date.
Can the tour change after I make a booking?
There are many external factors that affect daily life, let alone a vacation scheduled months in advance. In Greece, weather conditions affect travel by sea and ferry boat or sailing routes changes might occur at the last moment.  Sometimes a labor strike may affect travel arrangements.   Aegean Adventures urges clients to procure travel insurance to cover unforeseen events.
When I book a tour, do I sign anything?
When booking a tour you must sign a Booking Agreement which contains Waivers and Releases. When booking online, you "sign" the Booking Agreement by checking the "I agree" box.  A client who pays for  a tour on behalf of other travelers fully binds the Agreement on all travelers in the client's party.
Do I need travel insurance?
Travel insurance is highly recommended, however we do not require it except for family tours with children. Be aware that during any kind of travel, domestic or foreign, unforeseen circumstances, such as the weather, can alter even the most meticulously planned vacation. Travel insurance can compensate you in the event of trip cancellations, trip interruptions, trip delays, baggage delay or loss, or unexpected medical emergencies.
As a registered agent of Travel Guard Insurance, the Aegean Adventures team can book an insurance policy or provide a quote for citizens of the United States.   Note that some policies require booking within two weeks of payment of the tour deposit, such as, cancel at any time or pre-existing medical conditions.  Otherwise, you can purchase the insurance at any time after making final payment.   Travel Guard insurance does not provide coverage for flights obtained via frequent flyer points.
Do I need a visa for Greece?
Nationals of Australia, Canada, Israel, Japan, New Zealand, Norway, Iceland, Switzerland and the USA can stay in Greece for up to three months without a visa. Citizens of EU member countries may live in Greece for an unlimited period of time. Greek embassies have a list of other nationalities allowed in without a visa. Those not on the list, such as South Africans, need a visa. For an updated list of these nationalities, contact your nearest Greek Embassy. Your passport must be valid for at least three additional months from the date of departure from Greece.
Do I need vaccination shots for Greece?
No shots are required for entry to Greece. The Center for Disease Control in Atlanta, Georgia, USA maintains an up-to-date website for each region of the world. Click here to review the page regarding Greece.
Can you book my flight arrangements?
Yes, our colleagues can book your international flights and domestic air travel in Greece.
Can you arrange my additional travel needs in Greece?
Yes we can take care of all pre and/or post tour travel arrangements, including mini vacation packages, ferries, hotel accommodations and rental cars. We know Greece inside out and can make the best vacation recommendations for you based on your desires.
No helpful info? Contact us for answers.